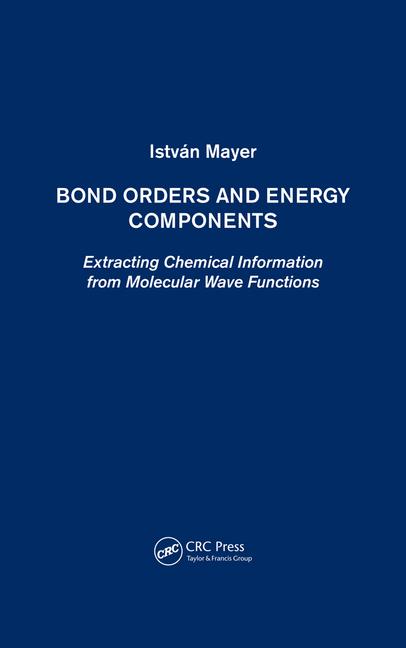 I. Mayer

BOND ORDERS AND ENERGY COMPONENTS

Extracting Chemical Information from Molecular Wave Functions


---
CRC Press
Boca Raton, London, New York 2016/2017, 229 pp








Publisher's home page with ordering info

The book is also available at Amazon and other book-sellers
Bond Orders and Energy Components: Extracting Chemical Information from Molecular Wave Functions summarizes methods developed by the author and his coworkers for analyzing the results obtained in modern electronic structure calculations from a chemical point of view; it discusses the formalism applied and presents some applications of these methods. The methods developed fill the conceptual gap between ab initio electronic structure theory and chemistry. The former considers a molecule as a system of atomic nuclei and electrons, while chemists think in terms of atoms and chemical bonds and, possibly, partial atomic charges.

Among others, the book demonstrates that the basic LCAO concept from early stages of the electronic structure theory, according to which the molecular orbitals are built up of the minimal basis of atomic orbitals, can essentially be justified by extracting "effective" atomic orbitals from the results of large scale (or even plane wave) calculations. The bond order (multiplicity) and valence indices are ab initio counterparts of the respective genuine chemical concepts. The one- and two-center energy components help to understand the energetics of molecule formation. The energy components as well as the recent concept of local spins are receiving the first systematic comprehensive treatment in the book.

Modern computational methods of electronic structure theory provide the wave function of the molecule in the form of a huge amount of numbers, and the widely used computer program packages generally do not provide tools to extract data corresponding to chemical concepts from these numbers. Such concepts, however, are extremely useful, especially when the molecular structure is not "classical" . The methods presented provide a way to understand molecular systems in terms of chemically oriented data derived from wave functions.






Publisher's home page with ordering info

The book is also available at Amazon and other book-sellers